Have you ever wondered what it's like to work at a place that doesn't only feel like… work? Turns out, most of the GitKraken team does not waste much time wondering this. We're excited to share that GitKraken has officially been certified as a Great Place to Work! 🏆
Surveying the Terrain
In April, we conducted a comprehensive survey to unveil the secrets behind the magic at GitKraken. We covered a wide range of areas, including onboarding experiences, career progression, leadership, company culture, and workplace norms.
An Outstanding Achievement
The survey results left us positively thrilled! An astounding 98% of our team affirmed that GitKraken is an amazing place to work. This is a testament to the exceptional team culture we've fostered here.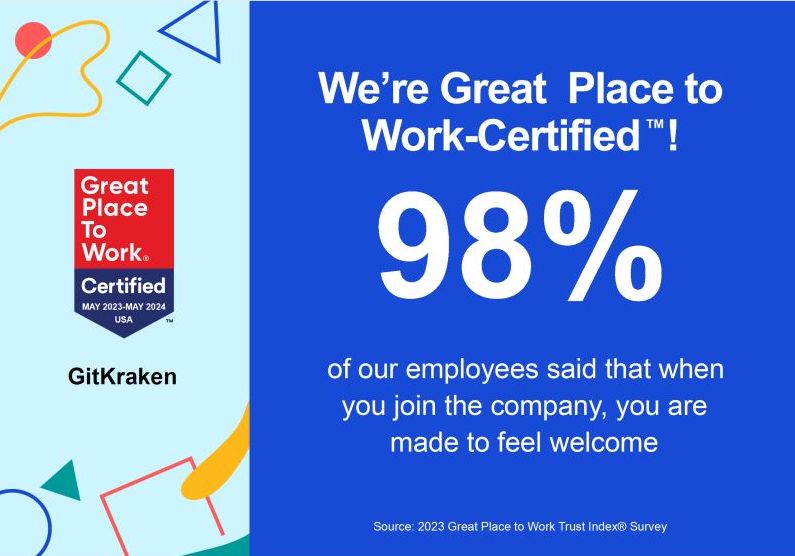 An Environment of Support and Innovation
So what sets GitKraken apart and makes it an extraordinary workplace? Well, it all boils down to the incredible people who make up our team. Our Krakeneers are the backbone of our success, bringing their unique talents, passion, and creativity to work every single day. Together, they create an atmosphere that's welcoming, encouraging, and enthusiastic – not to mention full of sarcasm and witty humor. And memes. And puns. So many puns.
Anchored in Growth and Collaboration
At GitKraken, we believe that a supportive and innovative work environment is the key to unlocking great achievements. We foster a culture where collaboration and growth are encouraged and celebrated. Whether it's through mentorship programs, regular knowledge-sharing sessions, or simply bonding over a coffee break, we're committed to helping each other thrive and succeed.
Charting Personal and Professional Journeys
Career progression at GitKraken isn't just about climbing the corporate ladder—it's about charting your own course and discovering new horizons. We empower our Krakeneers to take control of their professional journeys. With a clear vision and ample resources at their disposal, the possibilities for growth and development are limitless.
Heartfelt Gratitude to Our Team
We want to take a moment to express our deepest gratitude to the true heroes of GitKraken—our Krakeneers. It's their unwavering dedication and invaluable contributions that have transformed GitKraken into the fantastic workplace it is today. Each member of our team adds their unique touch, making our collective spirit unstoppable.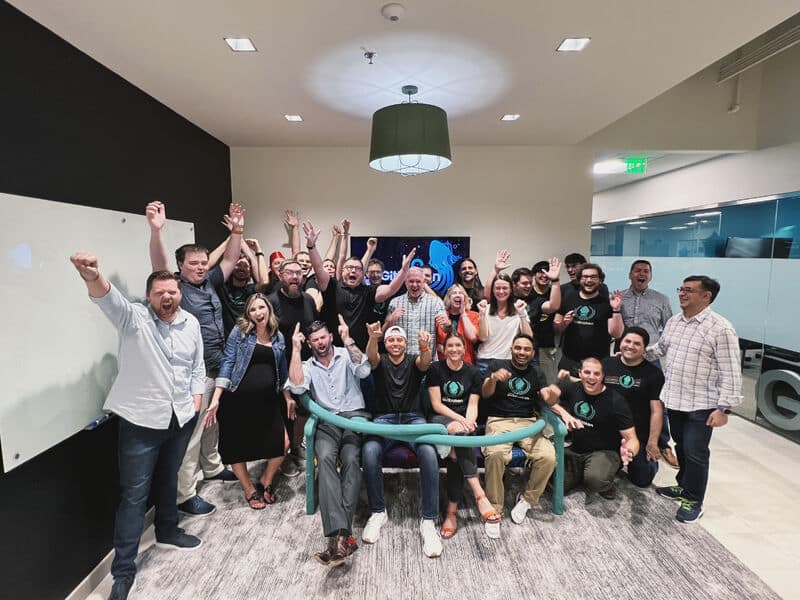 If you're on the lookout for a workplace that combines innovation with fun, and where collaboration knows no bounds, GitKraken is the place to be. Check out our open positions and join us as we continue to create software magic, empower each other, and make a real difference in the world of software development.