Plan better, identify risks, and uncover trends with a timeline view of Jira + Git activity.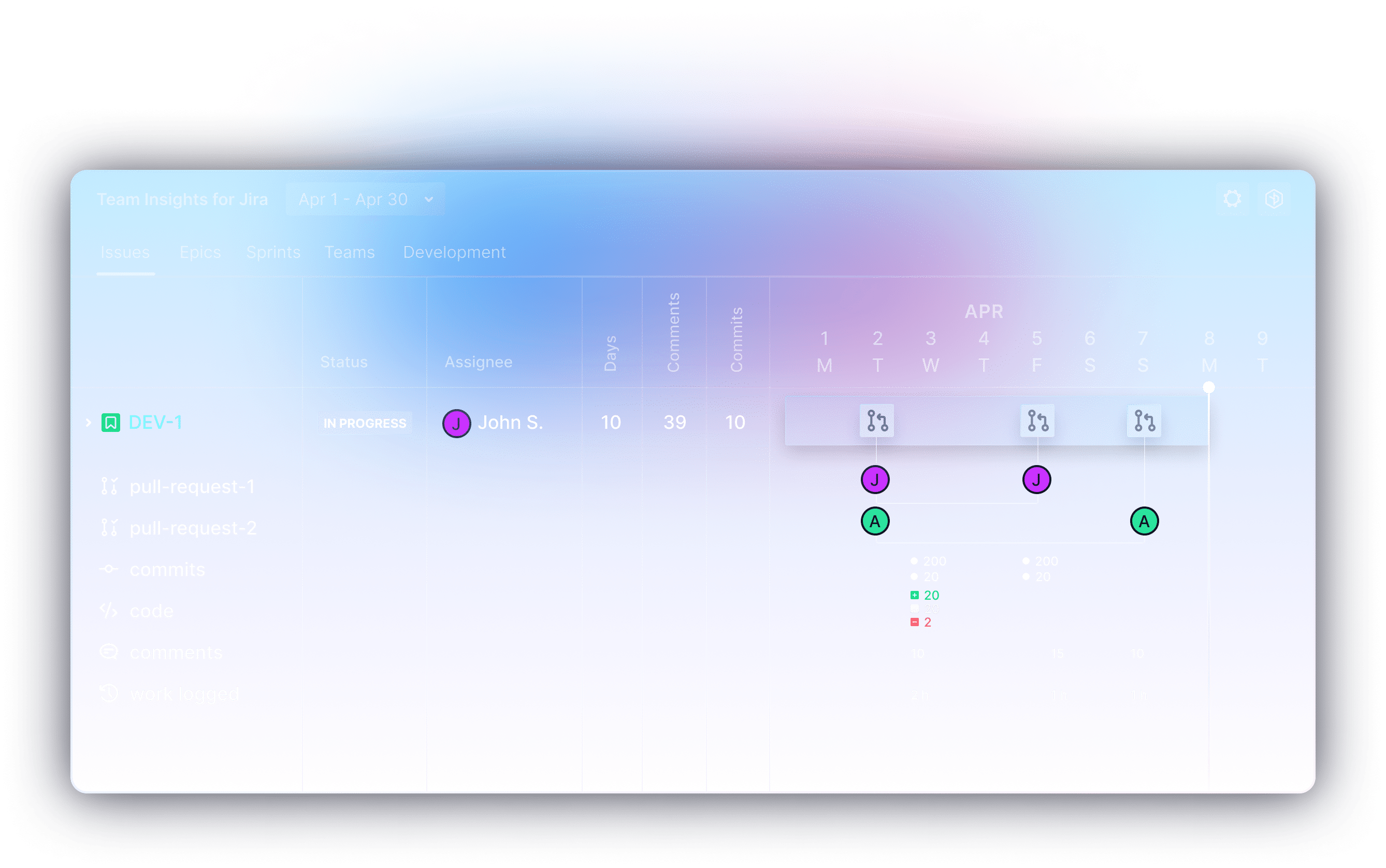 The first, and only, Jira App that lets you see Git activity across all of your projects and issues. And it's free.
Go Beyond a Single-Issue View of Git and Jira Activity
Jira planning views are a good start, but they fail to show the full picture of what's been done and what's left to do. And with other Git integration options, you have to click into every issue to see details. Team Insights for Jira shows all of your Jira and Git activity on a timeline, highlighting what your team is working on and how it's progressing so you can make better decisions.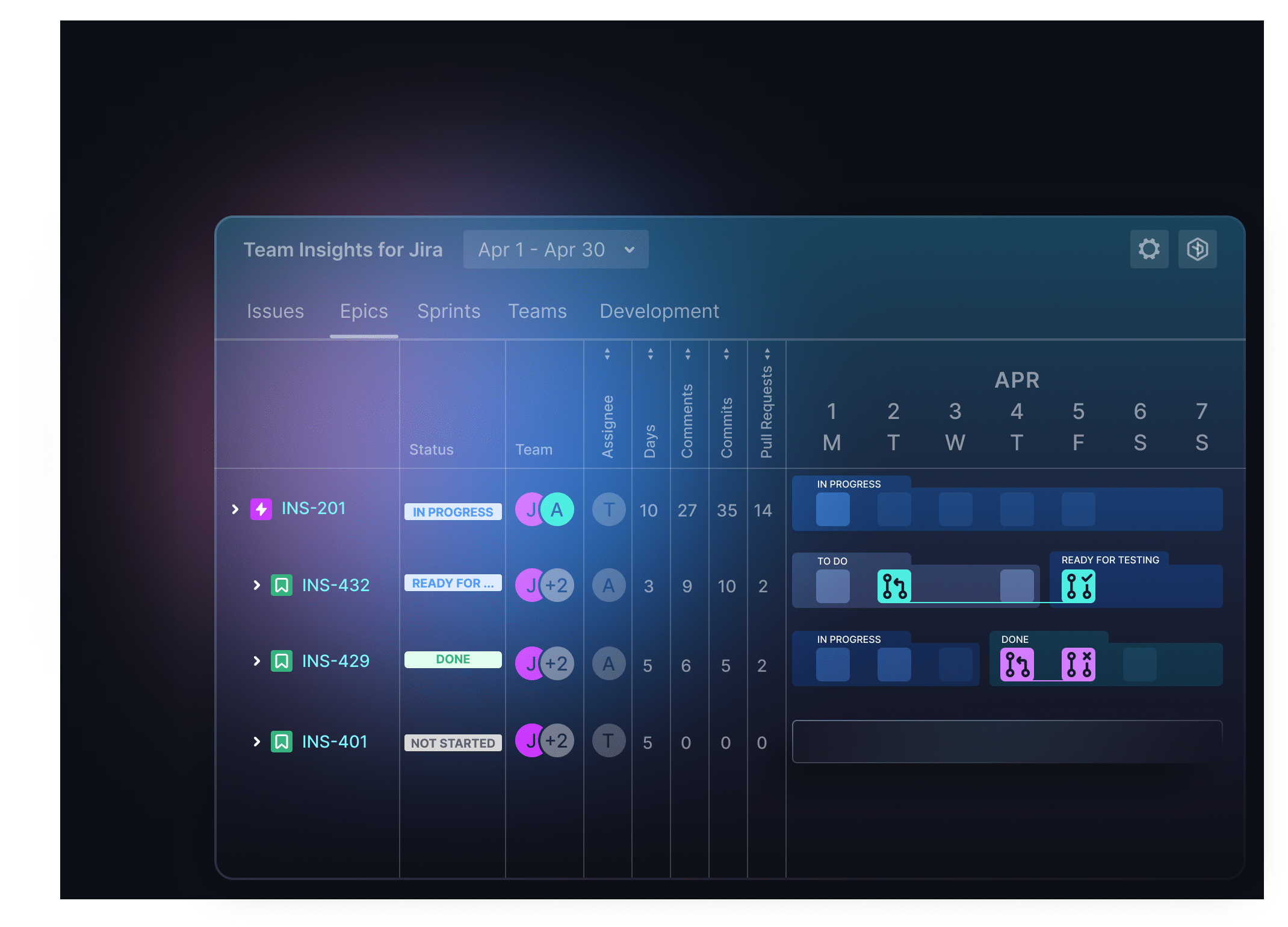 Customize Your View Across Projects, Epics, and Sprints
Whether you're looking forward to hit a deadline, or backwards to improve your workflows, Team Insights for Jira gives you the data you need to make better decisions. View the timeline by Epics, Issues and Sub Tasks and filter by project, sprint, team members, issue status, and more. You can even sort by things like days since last status update and number of commits.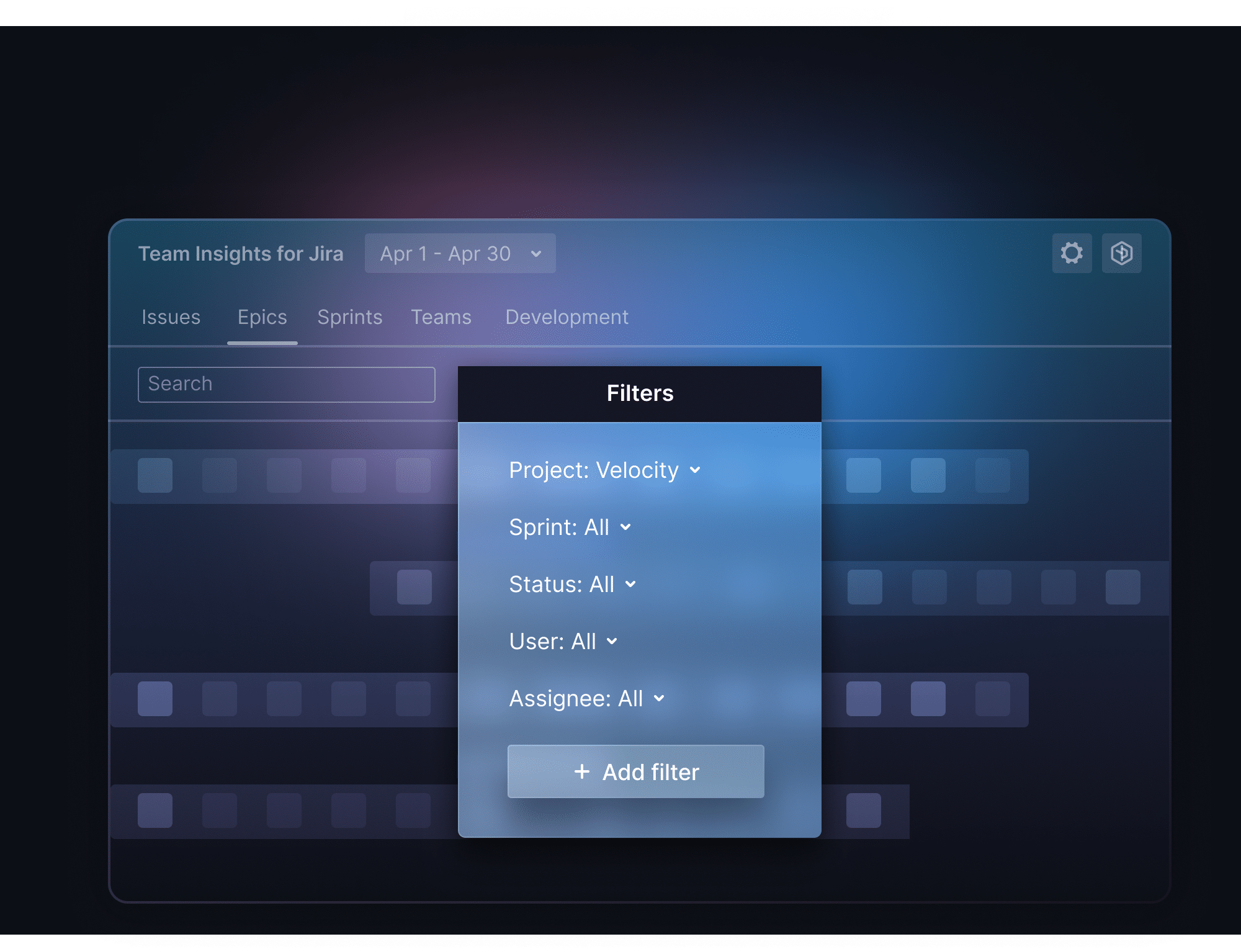 Quickly Scan Issues to See What Needs Attention
See the issues that matter most to you. Easily scan multiple issues to see what activity occurred, by who, and when. Drill down to see more details and quickly identify if team members are overloaded or if work is at risk for an upcoming deadline. Identify stale issues, issues that revert in status, or pull requests that remain open for too long.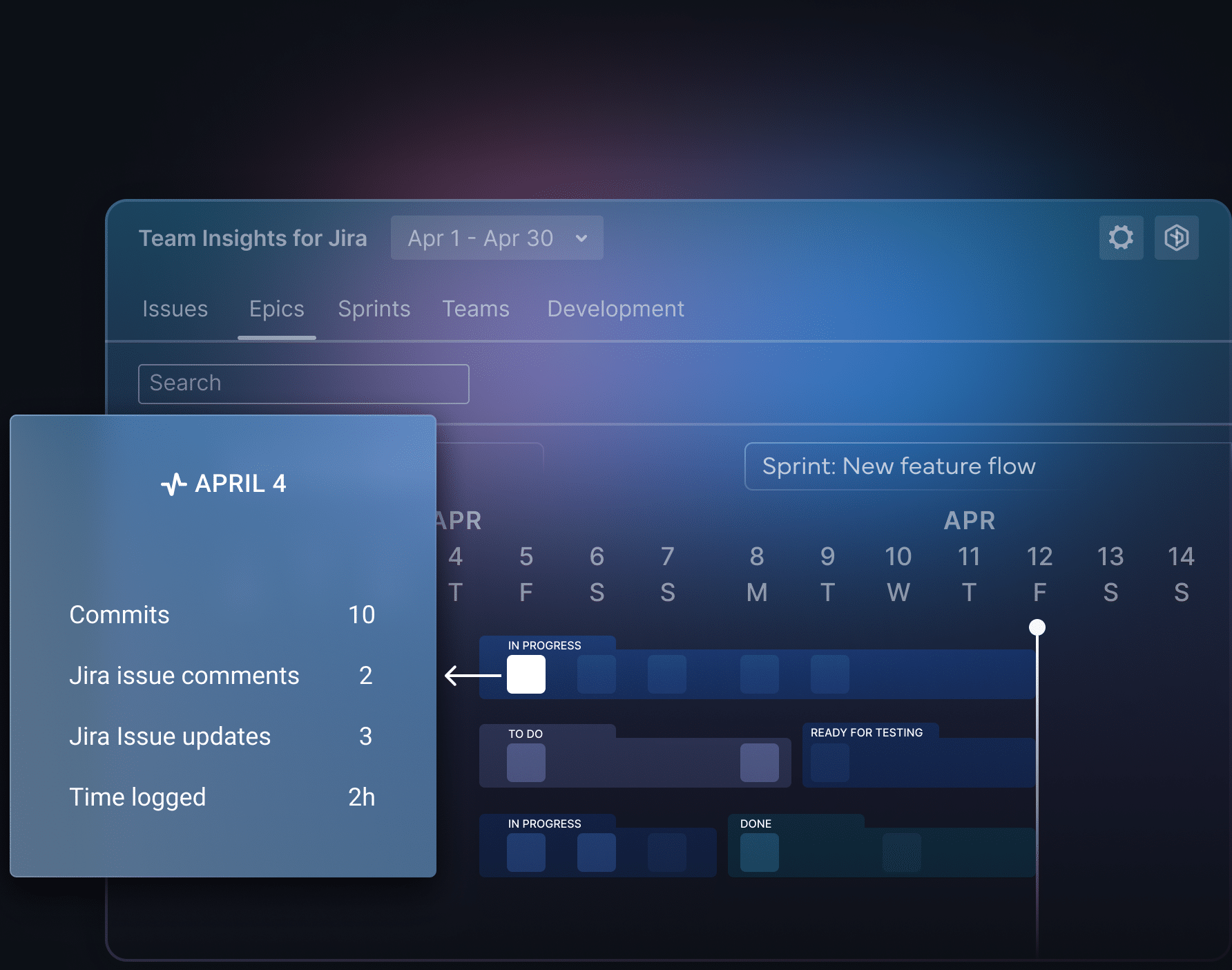 Make Top-Down and Bottom-Up Improvements
Empower all team members and departments to identify trends and opportunities for improvement. Use it for sprint planning, stand ups, retrospectives, or any other ad-hoc meetings where you need to understand the full picture.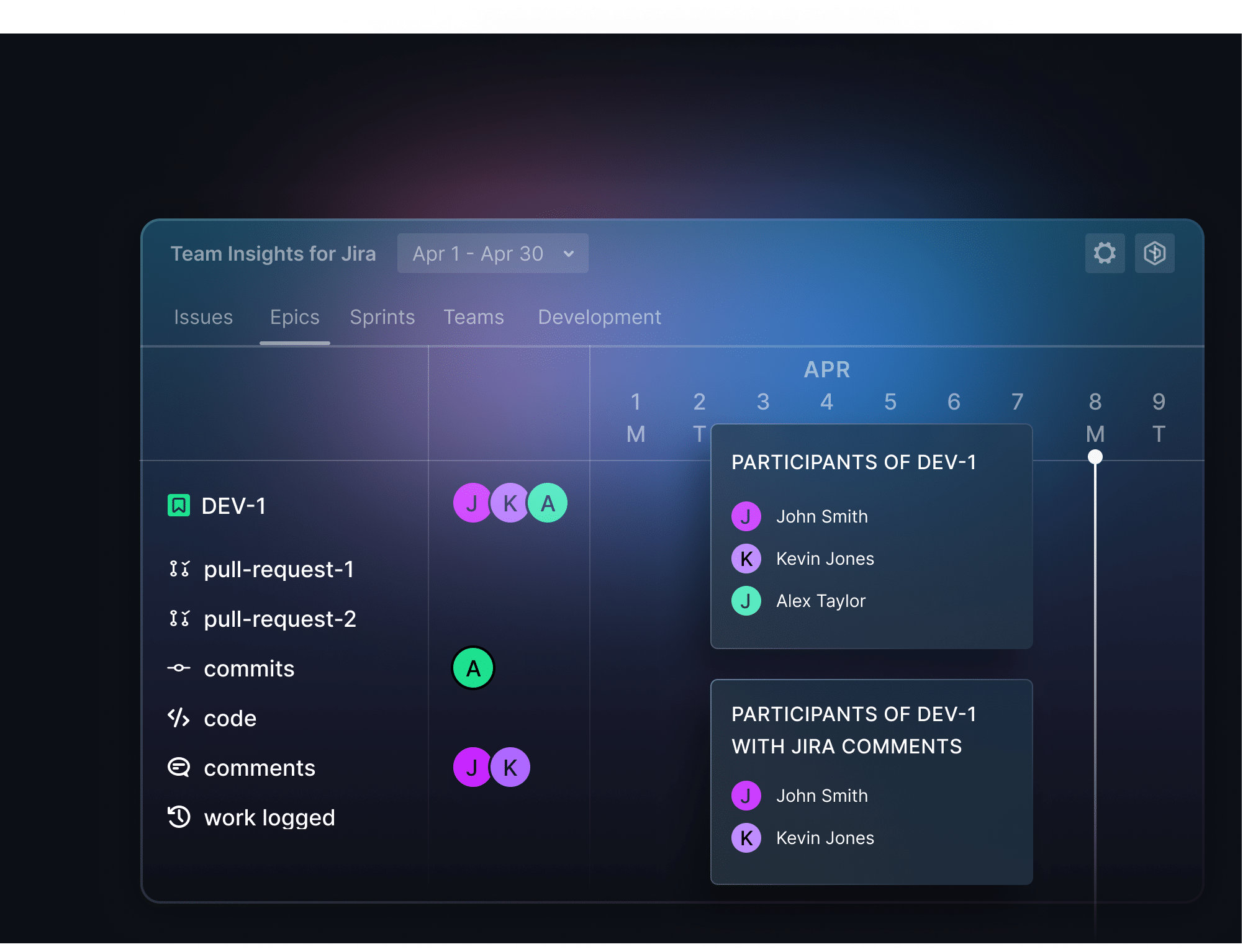 Automatically Pull in Git Activity
Team Insights for Jira displays Jira activity for all Jira users. And if you're a Git Integration for Jira cloud subscriber, Git data like branches, commits, pull requests, and tags are automatically incorporated into the views for free. Best of all, there's no additional setup or configuration required.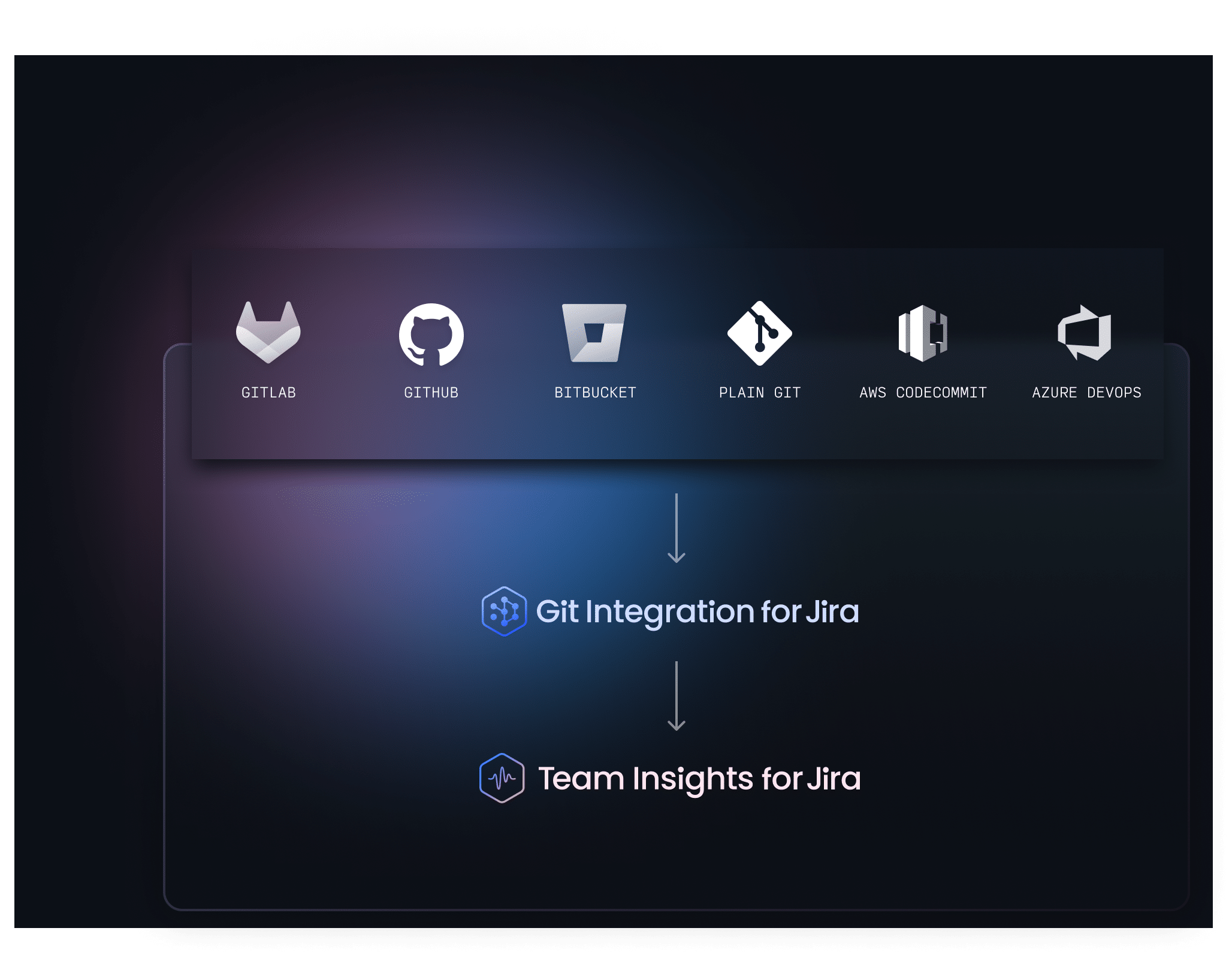 Install Team Insights for Jira - it's Free
Team Insights for Jira will enable your team to prioritize work and make better decisions. It's not required, but if you have a Git Integration for Jira Cloud subscription this extension will increase planning confidence by pulling Git data into your views.